Agnes NoŽl and the Early NoŽl's of Nova Scotia and New Brunswick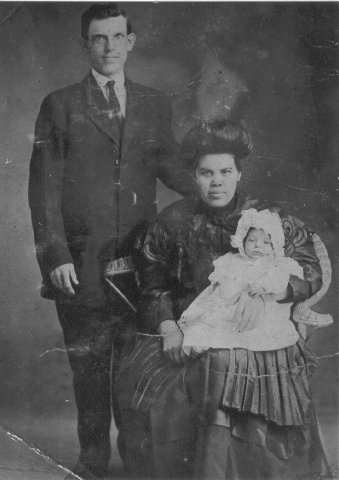 Father Lucas (Luc) NoŽl and Mother Emilie Goguen

This picture taken about 1914


shows Agnes NoŽl,


the daughter of Lucas NoŽl,


and her husband Leon Fontaine


with their child - Michael Pescatello
Contacts: Michael Pescatello Paula Gogan-Porter Phyllis Dakin
A Letter from FAYE ARNOLD
Agnes is my grand mother and Michael's g-grand-mother and although the picture (as far as I am concerned) shows she is of
Indian decent I have been unable to find anything on her or her family or where they were from. All though Michael's family told him that his grandparents were from Nova Scotia, there is no documentation on the birthplace of Agnes.
My grandfather was born in Roxton Falls, Canada as was their first born child. They were married in Granby, Shefford, QC. I
have them listed on the 1920 census for Connecticut, both listed as being from Canada, but whether she was actually born in
Canada or immigrated there as a small child I don't know. Her parents names were sent to me by a Tony Fontaine, who along
with two other gentleman who are researching the three Fontaine lines from Canada. These names were said to come from their Marriage records. But as they are only researching the Fontaine's they only recorded her name and names of her parents not her place of birth. Faye.
---
A Letter from Michael Pescatello
On Agnes Noel I found out that she came from Cocagne, New Brunswick, Canada. I have been in touch with her Niece and Nephew who still live in Cocagne.
Lucas's Father: Pierre Joseph Noel Mother: Susan Bellinger
Lucas (Luc) NoŽl
Born: 1841, June 2/July 10, Grande-Digue, NB
Died: ??
Emilie Goguen
Born: 1842, May 20/July 2, Cocagne, NB
Died: ??
Daughter of: Grťgoire Goguen & Colette Thibodeau
Children:
1.) Agnes
Born: 1877, Feb. 20/Mar. 3 Cocagne, NB
Died: ??
Godfather: Martin Goguen
Godmother: Olive NoŽl
2.) Marguerite Married: ?? (German) > ??
Born: 1879, Apr. 27/May 12 Cocagne, NB
Died: ??
Godfather: Michel Bťlanger
Godmother: ?? Goguen
3.) Jaddus (Jack) Married: Julienne Collette >1911, Feb.
20, Bouctouche, NB
Born: 1881, Apr. 15/June 28 Born: ??
Cocagne, NB Died: ??
Died: ?? Daughter
of: Olivier Collette & Celina Allain
Godfather: Stanislas NoŽl
Godmother: Flavie Goguen
4.) Philťas Married: Zťlica Goguen->??
Born: 1883, Mar. 25/June 18 Born: 1892, Feb 22/Mar. 8
Died: ?? Died: ??
Godfather: Albeni Goguen Daughter of: Eustache
Goguen & Sťraphine Hťbert
Godmother: Colestie Goguen
5.) Arcade Married: Marie ??->??
Born: 1885, Apr. 9/June 18 Born: ??
Died: ?? Died: ??
Godfather: …milien Boudreau Daughter of: ?? &??
Godmother: Olive LeBlanc
6.) Grťgoire Married: …vangeline
Boucher->??
Born: 1887, Nov. 17 Born: ??
Died: 1973 Died: ??
Daughter of: ?? & ??
Michael
---
A Letter from Paula Gogan-Porter
I checked all the godparents you had as Goguens too, and here are some of my results:
Martin Goguen was the son of Hippolyte Goguen and Apolline Doiron.
Hippolyte was the son of Joseph Goguen and his second wife Anne LeBlanc.
Joseph Goguen was the first son of one of the founders of Cocagne, NB, Joseph Goguen and Anne Arsenault.
I have no information for the Goguen married to Michel Belanger nor for Zelica or Flavie.
Seraphique Hebert was married to Eustache Goguen -born July 6, 1859, who were married May 7, 1888.
Eustache was the son of Thimothee Goguen and Anne LeBlanc.
Timothee was the son Anselme and Angelique Hebert.
Anselme was the son of Jean Baptiste and Madelaine Thibodeau.
These godparents were related closely to each other, and within the Anselme Goguen family.
This material was taken from Arcade Goguen's book on the Goguen Family. It is a large listing. I am related to Anselme via his younger brother, Placide.
Sincerely, Paula Gogan-Porter

1st Generation:
Joseph Gueguen and Anne Arsenault
Joseph
Jean-Baptiste born 1766 on Miquelon Island, died Mar 1839.
Damien
Maximillien
etc...
2nd Generation:
Jean-Baptiste Goguen married to Madelaine Thibodeau
Gertrude
Anselme-born approximately before 1787
Germain-
Placide
Theodore
Jean
Nathali
Marguerite
Anne
Bonaventure
Mrrie
Polonie
Henriette

3rd Generation from Joseph Goguen/Gueguen
Anselme married to Angelique Hebert (daughter of Pierre Hebert and Apolline
Boug) in 1806
Children of Anselme:
Henriette-Nov? 11, 1907, marred Sept 5, 1828 Joseph Allain
Jean-born Jun 19, 1809, married Esther Hache
Brigitte-Oct 8, 1819
Gregoire-born May 9, 1812, married Collette Thibodeau
Laurent- born Apr 10, 1814, married Scholastique LeBlanc
Joseph-born Mar 17, 1816, married Angele Thibodeau
Ursule-born Oct 24, 1817, married Antoine Robichaud
Moise-born Jan 15, 1820, married Marguerite Riley
Natalie-born Dec 31, 1821,
Andre-born Dec 3, 1823, married to Olive LeBlanc
Felix-born Nov 1, 1825, died May 7 1826
Timothee-born Apr 13, 1827, married to Anne Le Blanc
Etienne-born Dec 20, 1829, married to Marie Petitpas
4 th Generation from Joseph Goguen:
Gregoire, (Anselme and Angelique Hebert, Jean-Baptiste, Joseph),
Married Jan 18 1837 to Collette Thibodeau, daughter of Basile Thibodeau and
Maguerite DeRoches.
Children of Gregoire:
Basile-born Mar 19, 1840
Emilie-born May 20, 1842
Henriette- born Mar 27, 1844
Scholastique-born Mar 9, 1846
Joseph-born?, married April 18 1864 to Ursule Goguen, daughter of Hippolyte
Goguen and Appoline Doiron
Etienne-born July 5, 1848, married Cecile Babineau Sept 15, 1871
Marguerite-born Jan 20, 1851
Angelique-born Mar 18, 1853
Henriette-born Aug 22, 1855
---
A Letter from Phyllis Dakin
My gg-granmother was Genevieve Noel who married Pierre Jacquet. Their daughter was my g-grandmother Marie Jacquet married to Hypolite Cormier. My grandmother was Christine Cormier who was born 6/6/1872 in Etang du Nord - Magdaline Islands
All of my roots are from New Brunswick and Nova Scotia. Our oral History says that my grandmother had "Indian" features and the family always talked of the Cree & Micmac and the family always said the white streak in my hair was an Indian trait. My grandmother Christine was born in the Magdaline Islands (?). Most of my information was from my 90 year old Cormier Uncle, the son of Christine. His wife is 20 years younger and a 3rd cousin of his and knew Marie Jacquet the daughter of Genevieve.
Also from my mothers papers: Marie Cormier the daughter of Christine Cormier tells of how her ( Noel) family fled France during the Napoleon Revolution and lost much in wealth and how many years later a family member went to France & was never heard from again.