The Will Of BLASIUS NOEL - 1831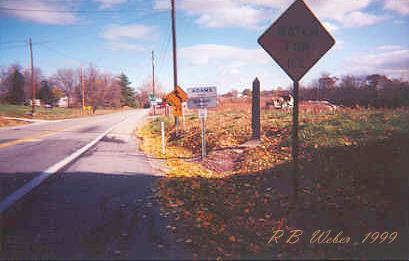 This is the property called "Landstool" looking up and down Rt. 194 on the
PA / MD border between Littlestown, PA. and Taneytown, MD., at the
intersection of Ruggles Road which forms the northern border of "Landstool".
140 acres bought by Charles Carroll in 1752
Wolfgang Spies was taxed for 100 acres of it in 1782
Blasius Noel, Wolfgang's son-in-law, who married Mary Ann Spies,
left the 100 acres to his kids ( 8 shares ), and grand kids
( 4 of Christopher's kids to divide up 1 share ).
All of the land was sold to Sebastian Obold the husband of Catherine Noel and son-in-law
of Blasius Noel. John Adelsperger was administrator of Blasius' will.
Note: The obelisk is the Mason and Dixon line marker.
Richard B. Weber
---
Posted by P.G. on Sat, 05 Jun 1999
Surname: NOEL, HEIS, ADELSPERGER, WIVELL, LANDAMEIR, ECK, TROXELL, BAUMGARDNER, EICHELBERGER
11 October 1831 Frederick Co. MD Folios 385-386
In the Names of God, Amen. I Blasius Noel of Frederick County, in the State of Maryland, being sick and weak
in body but of sound disposing mind, memory and understanding, do make and ordain this my last will and
Testament, in manner and form following, to wit: I will and bequeath unto my wife Mary Ann, during her life only,
of my goods and chattles as follows, to wit, Two cows, two hogs, her own choice, One ten plate stove and pipe
thereto belonging, one bedstead, bed and bedding, her choice, one cupboard, and all the cups, saucers, tea
spoons, knives and forks, one large table two iron pots, four chairs, one large rocking chair, five bushels of wheat
five bushel of rye, six bushels of corn, four bushels of potatoes. I empower my Executors hereinafter named, soon
as they convienently can after my death, to sell the residue of my goods and chattles at a public sale and to divide
the money arising from such sale left in their hands after payment of my debts and funeral expences into nine equal
shares which I will and bequeath as follows-One share to my son Joseph, one share to my son John, one share to
my son Peter, one share to my son Jacob, one share to my son Blasuis, one share to my son Michael, one share
to my four grand children, the children of my son Christopher, to be equally divided among them, shares alike; one
share to my daughter Mary Magdalena, and one share to my daughter Catherine. I will and bequeath unto my
wife Mary Ann all my real estate consisting of the following tracts of land, situate in Frederick County, Maryland,
to wit: part of a tract of land called "Landstool" containing one hundred acres of land, more or less, now in the
occupancy of Jacob Heis, and part of a tract of land called "Troublesome Job" whereon I now dwell, containing
fifty acres and one half acre of land. To have and to hold my said real estate, ? the rights, liberties, priviledges and
appurtances thereto belonging, and to have the management thereof, and receive and take the rents, issues,
profits, and proceeds of the same unto my said wife Mary Ann, for and during her life only. I direct and empower
my executors herein after named as soon as convienently may be, after the death of my wife Mary Ann, to sell my
said real Estate, at public or private sale, and the same purchases likewise to sell at public sale all the the goods
and chattels left at her death, which I herein before willed and bequeathed to her during her life only, and to divide
the money arising from such sales into nine equal shares which I will and bequeath as follows: one share to my
sons Joseph, one share to my son John, one share to my son Peter, one share to my son Jacob, one share to my
son Blasius, one share to my son Michael, one share to my four grandchildren, the children of my son Christopher
deceased, to be equally divided among them share and share alike; and one share to my daughter Catherine. And
in case any of my said children or grandchildren entitled to a share of my estate, in virtue of this my last will and
Testament, shall die in my lifetime, or before a distribution is made of the money, arising from the sales of my
estate leaving issue, then the issue of the children or child grandchildren or grandchild to stand in the place and
have the same proportion of money of my estate that the parent of such issue would if living have been entitled to
and my executors to distribute accordingly And lastly I do hereby constitute and appoint my two trusty friends
John Adelsperger and Jsoeph Wivell, jointly and severally executors of this my last will and Testament hereby
revoking all my former wills or testaments In Witness whereof I have hereunto set my hand and affixed my seal
this eleventh day of October Eighteen Hundred and thirty one.
Signed, sealed, published and declared by Blasius Noel
The above named testator as and for his last will and Testatment, in the presence of us, who at his request, in his
presnce and in the presence of each other have subscribed our names as witnesses thereto:
George Landameir Paul Eck Jacob Troxell
Maryland, Frederick County to wit: On the 27th day of August 1832, came John Adelsperger and made oath on
the Holy Evangely of Almighty God, that the foregoing instrument of writing is the true whole will and testament of
Blasuis Noel, late of Frederick County, deceased, that hath come to his hands and possession, that he received
the same from William Baumgardner, with whom it had been left for safe keeping and that he does not know of
any other of a later date. Test. G.M. Eichelberger, Register
Maryland, Frederick County, to wit: On the 27th day of August 1832 came Paul Eck, and Jacob Troxell, two of
the subscribing witnesses to the foregoing last will and testament of Blasuis Noel, deceased, and made Oath on
the Holy Evangely of Almighty God, that they heard him publish, pronounce, and declare the same to be his last
will and testament that at the time of his so doing, he was to the best of their apprehensions of a sound and
disposing mind, memory and understanding that they respectively submitted their names as witnesses thereto at the
request of the testator and in his presence and that they also saw George Landaman, the other subscribing witness
subscribe his name as a witness thereto at the request of the testator and in his presence and all in the presence of
each other
Test: G.M. Eichelberger, Register
I Joseph Wivell, named and appointed one of the Executors of the last will and Testament of Blasius Noel, late o f
Frederick County, deceased, do refuse to act as such, I do therefore hereby renounce all my right title and claim
to said trust in virtue of said appointment desiring at the same time that letters testamentary may be granted to
John Adelsperger, one of the Executors named in said will. To the Register of Wills Frederick County 25 August
1832
signed: Joseph Wivell Image of a copy of the Will

---

JPP 1-Folio 21-22 5th acct of John Adlesberger acting executor of
Blusius Noel late of Frederick County
This accountant charges himself with the balance due estate for
distribution on settlement of 1st acct exhibted and passed the OC on 5
Nov 1853 $99.00

balance due estate for distrib on settlemt of 2nd acc passed 4 April
1842 $972.05

Also bal due estate for dist on settlement of 3rd acct & passed 6 Nov
1843 510.73

Also bal due est for distrib on settlement of 4t acct passed OC 6 May
1844 531.60

Also with this sum retained to settle final acct
2.82 2116.20

Accountant prays allowance for the following pmts to wit
For sum pd Jos Nowl a son of dcd in full of his portion of estate 234.82

For do pd John Noel a do of do his fo of do in full 234.82

For do pd Peter Noel a do of do his do of do in full 234.82

For do pd Jacob Noel a do of do his fo of do in full 234.82

For do pd Blusius Nowl a do of do his fo of do in full 234.82

For do pd Michael Noel a do of do his fo of do in full 234.82

For do pd Mary Lansinger/Mary McLauringan a daught. Of do in full of her do 234.82

For do pd Catharine Obolt a do of do in full of her do of do 234.82

For do pd the children of Christopher Noel dcd in full of do 234.82

For do pd Geo M Eichelberger continuance fee .64

For do pd Regr continuance OC 1851 -1854 2.50

For do pd do for stating recding OC this acct & copy same
3.20 total: $2119.78
overpaid assets by executor $
3.58
State of Maryland Frederick County to wit: On the 7th May 1854 came John
Adlesberger Adm. Of Bleusuis Noel late of Frederick County dcd and made
oath on the holy evangely of almighty god that the foregoing ac as
stated is just and true to the best of his knowledge and belief and that
he has paid or caused to be paid the several sums for which he has
prayed allowance. Which upon due examination is passed by the Orphans
Court. Test: Geo Harkins Regr

---

I do have a couple of family connections to the Noel's--
my 1st cousin (5 times removed) John Joseph Weakland married Anna Elisabeth Noel
(1846-1882);
my 2nd great grand uncle Anthony Anstead was married to Catherine Noel (daughter
of Phillip Noel 1821-1895);
my 2nd great grand aunt Louisa Glasser Bauman was married to Joseph Schwab whose
mother was Mary Magdalen Noel (born 1812) married Aloysius Swope (Schwab).

If you know the parents of any of these folks or have come across the Adelsperger
name in your research please let me know. I will keep you in mind if I come
across anything new on the Noel's. Happy Hunting!

Regards,
Patti Godesky