The Noels of Campden and Whitwell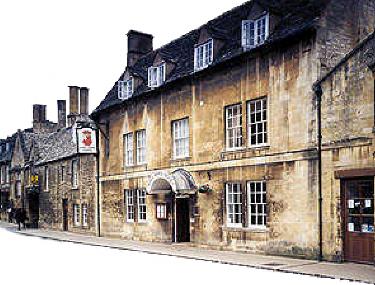 The Noel Arms Hotel on High Street at Chipping Campden, Gloucestershire is a 14th Century Coaching Inn.
Charles the second son of Charles I and Henrietta Marie of France had spent his teenage years fighting Parliament's Roundhead forces until his father's execution in 1649 when he escaped to France. He returned to Scotland to led a Scottish force of 10,000 into a dismal defeat by Cromwell's forces at Worcester. He stopped here at Campden with his Scottish army after his defeat by Cromwell in 1651. Once again he escaped to France but was invited back to England as the Commonwealth dissolved and he became Charles II in 1660 until his death in 1685.
Sir Edward Noel fell at Oxfordshire on the 8th of March 1642 while fighting for Charles I. This was a bloody civil war in which the king once said that in one afternoon he lost almost all his friends and relatives.
From a letter from Sir Huntingdon, 10th April 1643., "And now here is a new horde of' Plunderers' threatening the Association with new infall from the North. The old Newspapers call them Camdeners; followers of a certain Noel (it must be Baptist Noel), Viscount Camden, from Rutlandshire; who has seized Stamford, is driving cattle at a great rate, and fast threatening to become important in those quarters." Maybe it was in July 1643 that Campden House, which had been erected not long before by the first Viscount Campden at a cost of 30,000 pounds, was burnt down.
---
Taken mostly from: "The visitation of the County of Rutland 1681"
Note: Send any corrections with references to: DN
James Noel was born about 1482 at Old Dalby. His son Andrew Noel was born about 1512 and his grandson Sir Andrew Noel, also of Dalby, Leicestershire, England, was born about 1558. Andrew died 19 Oct. 1607. Sir Edward Noel the son of Sir Andrew Noel married Julian the oldest daughter of Baptist Hicks and after his father-in-law died he became the 2nd Viscount Campden.
Baptist Hicks created the titles Viscount Campden and Lord Hicks of Ilmington. Sir Baptist Hicks died on the 18th of Oct 1629 at St Lawrence, Old Jewry, London without any sons he was permitted to pass his honors and titles to the husband of his eldest daughter whose family name was Noel and thus her descendants bear the name Noel and they became the Earls of Gainsborough.
Baptist Hicks 1st Viscount Campden
Edward Noel 2nd Viscount Campden.
Baptist Noel, 3rd Viscount Campden and Earl of Gainsborough. Born 1612 Died 29 Oct 1682 at Exton
Wriothesley Baptist Noel 2nd Earl of Gainsborough Died: 21 SEP 1690
Baptist Noel 3rd Earl of Gainsborough Born 1684 Died 17 April 1714
Baptist Noel, 4th Earl of Gainsborough May 1708 Died 21 Mar 1750
Henry Noel the last Earl of Gainsborough Died 1796
Christopher Henry Nevile (post Christopher Henry Noel), ABT 1774 - 27 Feb 1838 Colonel in Rutland Fencible Cavalry June 7, 1798, Assumed by Royal License (7th June 1798) the surname and arms of Noel only in compliance with a testamentary injunction of his cousin Thomas Noel of Walcot Northants. He acquired the estates of the last Earl of Gainsborough when Henry Noel died without issue in 1796. Christopher's wife was Lady Sophia Noel the youngest daughter of Baptist Noel the 4th Earl of Gainsborough. He had sons Christopher H (1793) and Henry W (1794) and daughter Sophia Charlotte Nevile. It is not clear about Gerard Noel.
---
Gerard Noel Noel MP was the father of Charles Gordon Noel.
He was born on 17 JUL 1759. He died on 12 APR 1823
Charles Gordon Noel, 1st Earl of Gainsborough in the 2nd creation
Born: 2 OCT 1781 Acceded: 16 AUG 1841 Died: 10 JUN 1866
Charles George Noel, 2nd Earl of Gainsborough
Born: 5 SEP 1818 Died: 13 AUG 1881
Charles William Francis Noel, 3rd Earl of Gainsborough
Born: 20 OCT 1850 Acceded: 1881 Died: 17 APR 1926
Arthur Edward Joseph Noel, 4th Earl of Gainsborough
Born: 30 JUN 1884 Acceded: 1926 Died: 27 AUG 1927

---
Sir Andrew Noel of Dalby and his wife Mabel Harrington the 6th daughter of Sir James of Exton.
Their children were:
Elix the wife of George Audley of Castlehaven
Theodosia the wife of Cecil (K?) later Vice (?) of Wimbleton
Alexander of Whitwell - wife Mary the daughter of Theo Palmer of Carleton and their Son Sir Andrew of Whitwell
Arthur
Sir Charles
Sir Edward Noel of Brooks and his wife Julian Hicks
Son Baptist Noel, Viscount Campden
1st wife - Anne the oldest daughter of William the Earl of Denhigh. they had
three children, Charles, Charles and Edward who all died young.
2nd wife - Anne the daughter of Sir Robert Lovett, Knight of Soulbury, Liscombe, Buckinghamshire.
Her former husband was Edward Bourchier, the Earl of bathe.
3rd wife - Hestbar the daughter of Lord Edward Wotton.
4th wife - The oldest daughter of the Earl of Lindsey.
---
The page images were collected by Phil Stevens.
Use the return / back button of your browser to return from the Images of the book.