Hooglandse Kerk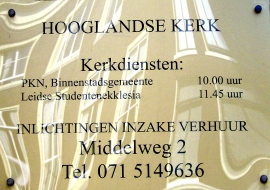 Cornelius Noel, the progenitor of the Virginia Noel and Noell lines, was born at Leiden in the south
of Holland on November 8, 1623. He was christened at the Hooglandse Church.


The first church was dedicated to St. Pancras in 1315. The present church was started in 1377 in
the Late Gothic style and was completed in stages in 1381 and 1436.
The Hooglandse Kerk, the Highland Church, contains the monument of Pieter Adriaanszoon van der Werff. Pieter was born in 1529, a Calvinist, and earned his living as zeemmaker and bontwerker (furrier). In 1572 he was the agent for William of Orange, for whom he collected money to help to pay for the eighty-year-old war. He was the burgomaster of Leiden.



Images by Jeff Taylor - Supplied by Janice Taylor