John Noel of Pennsylvania born in 1777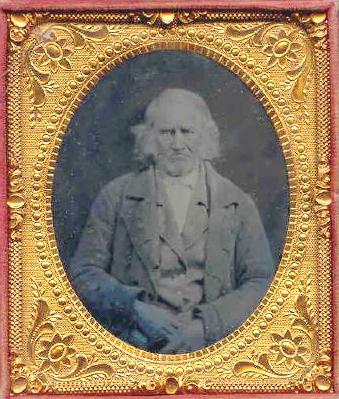 What a find!! While cleaning out my
Grandmother's house, we found this
Daguerreotype photo of John Noel
who was born October 15, 1777 in
Pennsylvania. He was the son of
Andrew Noel and Theresa Dellone.
John married Elizabeth Beamer and
they settled in Seneca County, Ohio.
You can't believe how excited I was when
we came across that picture! It was in a big
box up in the rafters of my Grandma's garage.
In that box were a bunch of other old, old
photographs and books (copyrighted 1830's
and 1840's). Some had names most didn't.
It was by plain dumb luck that I could identify
John Noel's picture. This past summer,
Bennett Noel, happened to stop by my house
to introduce himself ( he had gotten my name
off of Robert Stevens' website on Joseph
Noel ) and he had a copy of John's picture.
Sincerely, Debbie Konietzki

Taken from "The Noel Tree" by Charles Noel -
" JOHN NOEL was born 15 Oct 1777 in Pennsylvania. He married 15 Jun 1801 Elizabeth Beamer (21 Jul 1780 - 17 Sep 1847). John appears in the 1810 census for Menallen Township and the 1820 census for Franklin Township, Adams County. Tax lists for Menallen Township from 1799 to 1811 list two John Noels, occasionally calling one "John of Daniel". In 1808 one is noted as "out of township". The other John continued to live there until at least 1842. This John moved to near Massillon, Stark County, Ohio, in 1822; thence to Adams Township, Seneca County, Ohio, in 1830. The Seneca County farm was occupied by Nicholas Noel in 1880. John and Elizabeth had 7 boys and 8 girls, of which 4 boys and 3 girls were living in 1880. The baptism of their first ten children were recorded at Conewago Chapel in Adams County, Pennsylvania."
---
Debbie's Line is:
Joseph Noel (Abt. 1680-Abt 1753) & Unknown Wife
Johannes John Noel (Abt. 1722-27 Oct 1765) & Margaret (abt 1722-1799)
Andrew Noel (1754-March 1817) & Theresa Dellone-Dillon (1763-1835)
John Noel (October 15, 1777) and Elizabeth Beamer
Philip Noel (February 01, 1817) and Polly Laurinda Webb (abt. 1818)
George Washington Noel (Feb. 22, 1850) and Sarah M. Rutherford (Nov. 07, 1852)
Anna Noel (May 22,1882) and Edward Winn (December 06, 1879)
Noel Edward Winn (October 25, 1906) and Janet Elizabeth Clark (January 08,1909)