The Noel Line In The Philippines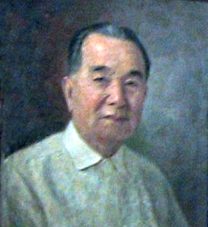 I, Leila Rispens-Noel am a Filipina, married to a Dutchman and now living in the Netherlands for almost 20 years. I was told by my grandmother that my grandfather, pictured to the left, is MAXIMINO JAEN NOEL who was raised in Carcar, Cebu Philippines, and born on May 29, 1879. His parents had 11 children. Their eldest son was, VICENTE EMILIANO JAEN NOEL, born on January 5, 1873. All were born and raised in Carcar, Cebu.
We are now looking for more information about Maximino Noel's parents. His father I was told was of Spanish origin and most likely a Spanish friar. I would appreciate it very much if anybody can tell me anything about the Noel's of Spanish origin.

With the help of my cousin Farah, I am now trying to compile the history of the Noel family in the Philippines. We are not that many in the whole country. We are the only Noel family in our province but with quite a handful of Noel's in the whole island of Mindanao. They are mostly concentrated in Cebu Island and most of them hold important public offices. The records in the Philippines were mostly destroyed during the WWII I was told by our National Bureau of Census. But a friend who is a Congresswoman confirmed that my grandfather MAXIMINO NOEL was indeed a congressman representing the 6th district of Cebu and served in the Philippine Congress between 1926-1928. She found this in the old documents at the Congress' Library.
Thank you. Leila Rispens-Noel August 06, 1999
---
Historical Notes of the Hometown of the Noel's in the Philippines


Carcar is located in the southern part of Cebu about 40 kms. away from Cebu City. Carcar is a junction town whose prosperity is still evidenced by large antique residences, quaint houses decorated with intricate lacy woodwork, and an imposing town plaza. It was a thriving settlement located on a small peninsula called Sialo. The Spaniards made the settlement into a town on June 21, 1599 and renamed it as Villadolid, after a famous city in Spain. Because it was along the coastline, it was vulnerable to Muslim piratical attacks. Year in and year out, it was pillaged by the Moros, taking away inhabitants and killing more. Finally, the survivors left their hometown for a safer place and agreed on a site: a crossroad leading to Sibonga to the south; Barili to the west; and San Fernando to the north. It was aptly called Mowag. Here fellow travelers coming from the fiesta Señor of Cebu City would split apart for their respective towns. But because of the presence of abundant tree-climbing plants called "kabkad", they ranamed the place Kabhad. The present name Carcar was given by its parish priest after his hometown in Spain. I checked this place on the internet and indeed there is a place in Spain called Carcar and there are Noels who live there at present.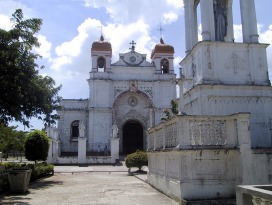 The first Convent and Church of Carcar was burned by the Muslims. The present (Greek-Tuscany style) was the work of Frs. Antonio Maglano, Gabriel Gonzales, and Manuel Fernandez. Although construction was begun in 1860, it was not completed until 1876. It is mainly Byzantine in architecture, the altar is Greco-Roman, and its columns are Corinthian. The parish was established in 1624. Among them are several old houses that are being restored. One such house is those belonging to the Sanches family, which is ten years older than the church in Carcar. The Balay na Tisa (Don Ramon Sarmiento's Manor) of the Sarmiento family, older by 17 years than the Sanchez's house, is one of the best and painstakingly restored ancestral house. The manor was built in 1859.
Carcar has many prominent persons who have earned reputations nationaly. Some of them are: Martino Abellana (artist), Romulo Gallicano (impresionist painter), Dr. Ramon Abellan (Musical Composer), Mons. Teofilo Camomot, and Congressman Maximino Noel.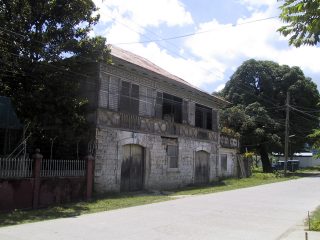 The Noel ancestral home which the younger generation called Dakung Balay (The Big House) was built around 1859, the same year the Sarmiento Manor was built. Tita Consuelo told me that our great-grandfather hired many workers to build the house. They gathered and carried corals from the sea to be used for the construction of the house. My ancestors contracted a band, and they played music to inspire the workers while they were busy working.
I am not really sure if Don Florencio Noel ordered the construction of the house or his father – the Spanish friar, Father Manuel. Perhaps, recollections of the younger Noel generation are not really that accurate but we are busy researching on this.
In the old church of Carcar (St. Catherine of Alexandria Parish), I found several memorial gravestones of the deceased Noel's with inscriptions in Spanish. I saw the gravestone of Don Florencio Noel, my great-grandfather.
It seems that the links of the Noel's in the Philippines is from Spain and not in Portugal as earlier reported. There must be some existing records in the parish church of Carcar.

---
The Family Of Florencio Noel and Filomena Jaen

I found the following entries in my diary dated June 15, 1979. I found this page when I was reading my old diaries. This was my first visit in Carcar. Ate Lydia and Kuya (my new-found relatives) related to me how the Noel Family settled in Carcar. It has many missing historical facts though and does not establish yet the origin of the Noel's but we can take some bits and pieces of the family history.
It was during the time when barter was still the most important means of trade when the Canarias-Sarmiento families from Pangasinan (Luzon) engaged in business with the local people. The Chinese merchants brought some beads and other clothes in exchange for fruits and taro roots. The Canarias-Sarmiento families were engaged in this sort of business until they reached Cebu. During the Spanish time, a certain Father Manuel, a Spanish friar settled in Carcar (exact year not known). It is known that he was the father of Don Florencio Noel. Florencio Noel worked as a bookeeper of Canarias-Sarmiento family until he married Doña Filomena Jaen".
They had 11 children:
1. Vicente Emiliano Jaen Noel, born on January 5, 1873, Sunday at 9:50 p.m. and died on August 11, 1951
2. Mariano Catalino Jaen Noel, born November 25, 1874, Wednesday at 3:00 p.m. and died on January 9, 1952.
3. Mateo Jaen Noel, born on September 21, 1876, Thursday at 9:20 a.m. and died on March 22, 1963.
4. Maximino Jaen Noel, born on May 29, 1879, Friday at 5:00 a.m. and died on July 6, 1969.
(My father, PASTOR B. NOEL was the son out of wedlock of Maximino Noel. The birth certificate of my father shows that he was born in Carcar, Cebu on August 6, 1926. My father died last April 17, 1975 in Bansalan, Davao del Sur without having a chance to meet his biological father. I came to know the Noel's of Carcar for the first time in 1979.)
5. Maria Trinidad Jaen Noel, born on June 4, 1882 and died on July 24, 1903.
6. Narciso Miguel Jaen Noel, born on July 5, 1884, Saturday at 9:56 p.m. and died on January 29, 1885. Infant.
7. Josefa Gabriela Jaen Noel, born on March 18, 1886, Thursday at 10:56 a.m. and died on July 27, 1969.
8. Florencio Ramon Jose Hermenegildo Jaen Noel, born on April 13, 1888, Friday at 8:33 a.m. and died on April 1891.
9. Jose Primo Noel, born on June 9, 1889, Sunday at 7:04 a.m. and died on September 17, 1893.
10. Manuel Jaen Noel, born on June 17, 1892, Friday at 8:40 p.m. and died on October 21, 1986.
(Manuel is the grandfather of Farah Noel of Cebu and Gigi Gabumpa of California.)
11. Rita Julia Jaen Noel, born May 22, 1895, Wednesday at 5:30 p.m. and died on February 9, 1963
Dates of births and deaths supplied by Farah Noel.

Leila Rispens-Noel