The Jacob Noel Family of Ligonier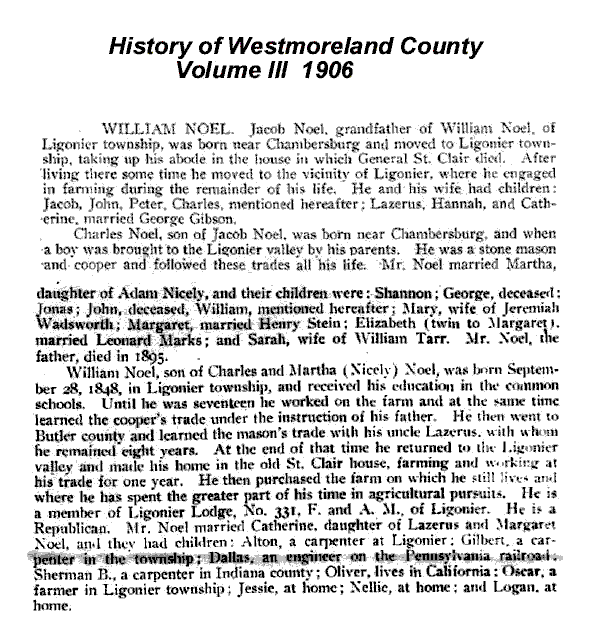 From: Westmoreland County History by Boucher and Jordan, 1906 pp323-324
Below is the hand-painted family picture featuring the marriage of Margaret Noel, the sister of William, to Henry
M. Stine. It must have been done between 1871 and 1877, since another six children were born from 1877 to 1885.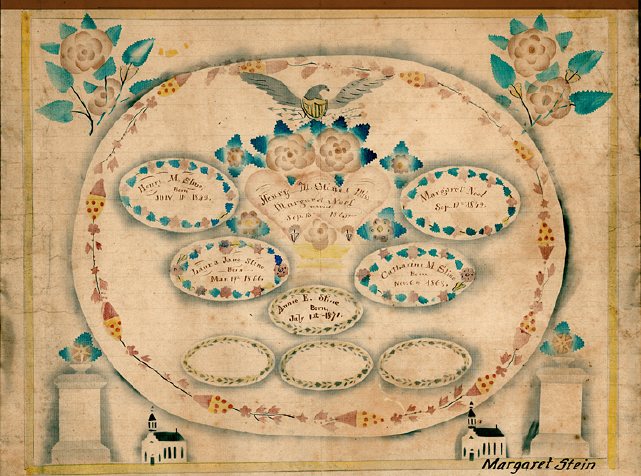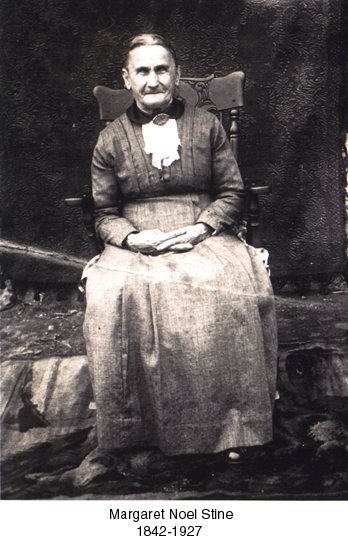 Margaret was the sister of William and
twin sister of Elizabeth. Their parents
were Charles Noel (1808-1894) and
Martha Nicely (b 1810). Charles was
the son of Jacob Noel (1772-1847) and Catherine Grammer (b 1783) who came
to Ligonier, Westmoreland County, Pennsylvania in 1823.

Margaret Noel married Henry Stine on September 13, 1865. She was born on September 12, 1842 while Henry was born on July 11, 1842. Their first three children were: Laura Jane born March 19, 1866, Catherine M born November 6, 1868, and Annie E Stine born July 1, 1871.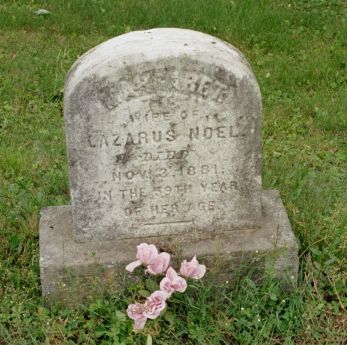 The grave stone of Margaret Stepp
wife of Lazarus Noel
At the Hope Methodist Church Cemetery in Youngstown, PA
I found a tombstone for Margaret Noel. It has the following inscription on the stone: Margaret Wife of Lazarus Noel died November 3, 1881 - In the 59th year of her age.
Lazarus was from the Jacob Noel family who went to Ligonier.
I never noticed this before but he was baptized a Catholic while none of the family where at St. Vincent's. That was a long trip in those days. - Mary Henry

From "The Noel Tree" - LAZARUS NOEL (N4C6) , sixth
child of Jacob and Catherine, was born 9 Oct. 1815 in
Menallen Township, Adams County, Pa. He was baptized at Conewago Chapel in Adams County on 5 May 1816. Sponsors were Michael and Theresa Dellon. Lazarus accompanied his parents to Hamiltonban Township, Adams County, in 1816; and to Ligonier Township, Westmoreland County, Pennsylvania,
in 1823. He was taxed in Ligonier Township in 1838, 1839, and 1840 for one horse; but appears in the 1840 census in Freeport Borough, Armstrong County, Pa., living with his wife. Lazarus was probably married in early 1840. His wife was Margaret Stepp. The Stepp family history is found in Chapter VI of "The Noel Tree".

Lazarus died on 25 Apr 1893 at Oakville, near Latrobe, Pa. He is interred at a small church (formerly Methodist, now unoccupied) in Youngstown, Pa., which is south of the larger St. James Lutheran Church. There is no marker, but
eyewitnesses stated that he was buried next to his wife who does have a marker." -

Photo by Shirley Noel Kondek