EARLY CATHOLIC MIGRATION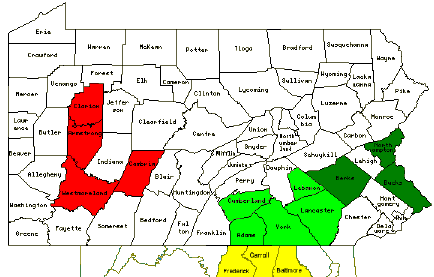 From Eastern Pennsylvania and Maryland to Clarion, Cambria, Armstrong, and Westmoreland Counties, PA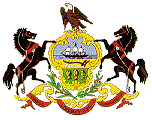 To update or add your information to this page use this link To: DN
Use "FIND" on the Menu Bar of your Browser to locate Surnames of Interest or

---
The Ships List Of The Princess Augusta by Theodore E VonMechow
Image of the Conewago Chapel Cemetery by Richard B Weber
About Old World Cemeteries by Jerilyn
Catholic Population of Pennsylvania - 1757 by Shea
The St Vincent Monastery Letter 1846 by The Trustees
The Story Of St Vincent's - Sportsman's Hall and the Kuhn and Ruffner Families
Pennsylvania Migration Trails
The Mission Trails
Dates of Pennsylvania County Formatiom
Latin Names
---
Some Conewago Records
York County Records on Line
Search all of the Pennsylvania Archives
or
Individual Sections

U. S. Catholic Record Society:
Columbus, Ohio
---
CHURCH RECORDS: St Vincent's, Latrobe, PA - 1809 - 1816 - 1833 - Father Helbron 1799 - 1819
Bob Reinsel's Page - Early Pennsylvania Church Records By Barbara Brady O'Keefe
---
The compilations of Russ & Mary Henry

For a more detailed listing see the Westmoreland County Site.

Hope Church Cemetery - Youngstown, Westmoreland County, Pennsylvania
Lycippus Cemetery - Westmoreland County, PA
Mechesneytown Cemetery, Westmoreland County, PA
St. Michael's, Loretto, PA - Grave Stone Inscriptions
ST. Patrick's Cemetery - Gallitzin, Cambria County, PA
St Vincent's, Latrobe, PA - Grave Stone Inscriptions
Lycippus Community Honor Roll - WW I - WW II
Whitney Honor Roll - Westmoreland Co., PA - WW I - WW II - KOREAN WAR

---
St Martin's Cemetery - New Derry, Westmoreland County, PA
---
The Migration




Pennsylvania:

Adams / York

> Westmoreland

> Cambria - Noel




Conewago

> Cambria

- Cassidy, Conrad, Dillon, Eck, Eckenrode, Platt, Rosensteel, Wysong.




Cumberland

> Westmoreland County

- McGuire.




Berks

> Westmoreland

- Seyverth / Seifert, Spring, Markle.




Berks

> Adams / York

> Westmoreland

-

Gerstenweiler, Eckenroth, Henrich/Henry. Conewago > Westmoreland - Cassidy.

Berks

> Adams / York

> Westmoreland

> Cambria

-

Coon, Eckenrode?




Goshenhoppen

> Westmoreland

- Buck, Bruck / Bridge, Eckenrode, Freeman, Grett, Griffin, Hartman, Henrich, Kophl, Kuhn, Tapper.


Goshenhoppen

> Cambria

- Buck, Dumm, Eck, Eckenrode, Grett/Crete




Lebanon

>

Clarion

- Reinsel




Lebanon

> Westmoreland County

- Flours, Reinsel.




Maryland:

Adams / York, PA > Frederick? / Baltimore, MD? > Westmoreland - Noel
Bucks County, PA > Maryland > Westmoreland - Kientz / Kintz
Federick / Caroll Co., MD > Cambria CO., PA - Storm, McGuire


Mixed:

Goshenhoppen (Berks/Bucks) > Conewago, PA / Frederick & Carroll County MD
Adams, Eck, Eckenrode, Grett, Kohl, Walter, Weible.
---
Kuhn, Henry 1787 - 1790 by Patricia Cronin
John Kuhn who married Anna Barbara --- and was born in Bavaria and died in PA in 1751, was the carpenter credited with building the Catholic church at GoshenhoppenHis Grandson, Henry Kuhn the son of Henry Kuhn and Anna Margaret ---, was among the five Catholic families who migrated to Westmoreland County, PA and founded the church at St. Vincent's called Sportsmans Hall. These were the families of Patrick Griffin, Philip Hartman, John Tapper and Philip Freeman who moved west between 1787 and 1790.
Surnames: KUHN, WEIDER, FAUST, RO(D)GERS, BALDRIDGE, TROY, ALLEN
---
Coon, Eckenroth, and Henrich by Brian Cartwright
To my side, I am descended from Eckenroth, Eck, Henrich & Coons of upper Berks and western Northampton Counties. Some Henrich descendants changed to Henry. My Coons line is not of John Kuhn, carpenter of Goshenhoppen, but many of his line did marry in with the Eckenroth and Henrich. Also some Schmidt in-laws, from Philip Schmidt. Many of the Eckenroth, Henrich and Coons moved to Adams/York County, PA after the Revolution, then on to Sportman's Hall, Latrobe, PA and Loretto,Cambria County or both.
William Coons was born in Berks Co (Sharps Mountain), not far from Christian Henrich. In the 1760's they moved to Freystown, York Co, where both parents died in the 1780's. John Coons m Christina Wolf, Elizabeth m Nicholas Noel, Catherine m Andrew Gerstenweiler, John spent a short time in Westmoreland County, Catherine moved there, don't know what happened to her after. John Coons & Elizabeth (Noel) then moved to Loretto, Cambria County, PA.
---
John Henry's Story
---
Buck and Henrich/Henry1787 - 1790 by Bill Mackey
My genealogy primarily traces the NICHOLAS BUCK family line from Bucks Co, PA. The majority stayed in the eastern part of Pa while Joseph headed west to Sportsman Hall in Latrobe, Westmoreland Co and then on to Loretto, Cambria Co, PA. Many associated and intermarried families from Goshenhoppen are also chroniciled - ATHERHOLT, ECK, ECKENRODE, DUMM, HEANEY, HENRICH/HENRY, KOHL, McCARTY and MELCHIOR/MELCHER, as well as the interrelated lines from Cambria Co - CALLAHAN, KAY, PFOFF, ROSENSTEEL, SHERRY and VON DELINDEN.
Another main family line included is that of JOHN STORM from Conewego area of Adams Co, PA/ Taneytown area of Carroll Co, MDthat were early settlers of the Loretto area with Michael McGuire. Associated families include - BRADDOCK, CASSIDY, MALONE, McCONNELL, McGUIRE, PLATT, WYSONG.
Also trying to locate any info on my father's lines from Cambria,Clearfield and Huntington Co's - MACKEY, MADIGAN, MAHER/MEAGHER and MULVIHILL, but have documented very little.
Note! Buck/Bock, Henrich/Henry, Ruffener, and Grett/Crete were at Sportsman's Hall, Latrobe, Westmoreland County, PA.
Photo of Elizabeth Ruffner Nessler
---
Seyverth/Seifert/Cyphert by Jim Cyphert
Philip and Barbara Seyverth (Philip and Barbari Seifert) are my g-g grandparents. Philip's father (Philip) arrived in Philadelphia on 25 Sept 1749 on the ship Speedwell. According to one of my aunts, Philip jr. was born on the ship. He had a brother Joseph and a sister Mary Elizabeth. They were raised on a farm in northern Berks County near Shartlesville.
Philip and Barbari moved to Westmoreland County, PA with other Catholic families from Berks County in the late 1700s; where they lived with their 10 children until Philip's death in 1823. Sometime thereafter, Barbari, some or all of the children, and many families originally from Berks moved to what is now Clarion County, Pa. They may have had a short stay at Sugar Creek, Armstrong County but settled at Crates (near Kingsville). There the Catholic families built the St. Nicholas of Tolentino
A Cyphert History by Dale Cyphert
---
Jacob Stillinger before 1800 by Ken Stillinger
Father James Stillinger (b. 1801), the son of Jacob Stillinger, was pastor at St Vincent and latter removed to Simon and Jude in Blairsville where he died. He had a brother Michael born in1799. A land sale records that they received some property on the death of a Jacob Stillinger who died about 1810 +/-. James and Michael appear to have been raised by a Michael Stillinger (the older) who I believe was their grandfather.
Still working on the Stillinger families in York and Lancaster and then some who went to Franklin County. I have an Anthony and Andrew Stillinger, and a Rebekkah Stillinger (widow??) all born mid 1700's in Franklin and nearby Bedford County - I do not know who they are.
While researching PA Germans who went to Orangeburg District South Carolina after Revolutionary War war, I find an A. Stillinger family, and a A W Stillinger family on 1810 census in SC. I think these are same as Anthony and Andrew in Franklin in 1820. Also found old letter in Orangeburg SC, which states there were several Stillinger brothers who came to America before the Revolutionary War. Two came to SC, they others went elsewhere York or New York (?). There are many Stillinger families still living in SC, and this is first shred of evidence I have found to connect them possibly to the PA Stillinger's.
There are several Stillinger families in south and central Indiana, who all descend from a Jacob Stillinger who in 1808 married a
Hannah Baker - they had children born in Chambersburg before moving west to Ohio then Jennings County Indiana. There are other Stillinger families in north Indiana, Noble County, who descend from a Jacob Stillinger b. 1806 in PA who married a Matilda Zeigler/Sigler. Found their names mentioned in some probate papers connecting them to York, PA. They migrated to Richland Co. Ohio then to Noble County, Indiana.
Still have not been able to establish which ones may have been in Westmoreland, although there was a Stillinger family there in late 1800's, a Harry Stillinger.

---
Noel, Joseph < 1800 by Dominic E Noel

At this time it is believed that Joseph was born at Conewago, Adams County and came from the Taneytown /Frederick County area of Maryland and was the son of Jacob Noel, the son of John Noel and settled in Mt Pleasant Twp., Westmoreland County, PA between 1787 and 1789. However this is not documented but the DNA evidence shows that this line is related to Joseph Noel from Europe in 1736. There was a John, Peter, Jacob, Simon, Alban (maybe Adam or Abraham misspelled) and maybe Mary Magdalene Noel at Sportsman's Hall, Latrobe, PA in this time period. All of these, including Joseph, could have been of the family of Jacob Noel from Maryland. The Noel DNA Project does put Joseph into the Adams County, PA Noel line.


Joseph's first child, Adam Noel, was baptized at Sportsman's Hall in 1800. Adam with his brothers John, Joseph, Peter and maybe Jacob, with some of their wife's families, moved to Rock Island, IL and were some of the first settlers of Davenport, IA. Another son, George, went to South America and only his youngest son Jacob, born in 1834, stayed in Pennsylvania or returned from Iowa to Westmoreland County, PA to raise a large family.

Surnames: FANELL/FANELLI - GRIFFIN - KREITZER - ZINK, STAUD
---
Merckel/Markel, Henrich/Henry
Cready/Kred/y, Spring, Kintz by Betty Marsicek
Markle - Berks to Westmoreland - This family is Merckel in Berks Co. and is Lutheran. The Catholic line starts with Johannes who married into the Henrich family. His descendants were Catholic. Johannes Merckel/Markle (1773-1822)
Henrich/Henry - Albany Twp, Berks to Westmoreland Christian Henrich (1718-1798)
Cready in Allegheny County - This name was Krede/y in Lancaster Co and was Lutheran. Some descendants converted to Catholicism in Allegheny County ca. 1825. John Cready (1781-1834)
Spring - Berks County toWestmoreland County Mary Barbara Spring (ca 1750- ca 1810) She seems to have immigrated with her two brothers, Jacob and George Spring.
Kientz / Kintz - Bucks County to somewhere in Maryland to Westmoreland - Apparently descended from Matthias Kientz of Bucks Co. Am missing some connections between Bucks and Westmoreland. Matthias Kientz - (emigrated 1752, d. 1777)
---
McGuire ~ 1789 by Janet Miller
Phillip and Robert McGuire, the sons of Barnabus McGuire and Jane Pendergass were born in Carlisle, Cumberland County. The family moved to the Derry area of Westmoreland County sometime after Robert's birth in 1789. The family appears in the 1790 census. Their children Pendergast, Nancy, Margaret and Jane were born in Derry. Barney died in 1820 and Jane in 1835. At various baptisms and marriages, according to Fr. Helbron's book, sponsors included Millers, Eckenroths and Bucks & I conclude some of these are relatives.
The Barnabus McGuire Family Story

---
McGuire by Terry McGuire
John and Barnabus McGuire of Derry and Archibald McGuire of Ligonier
McGuire's and Allied Families of Westmoreland Co., PA
---
Reinsel - Flours - Arentz 1803 - 1850 by Robert Reinsel
The Flours, sponsors of John Reinsel at Lebanon, first appear in Westmoreland County in March of 1803.
Henry Reinsel my earliest confirmed Reinsel ancestor who lived near Lebanon in the late 1790's (John and Anthony were baptized there) and moved to Derry Township, Westmoreland County before 1805.
Margaret Arentz was the wife of John H. Reinsel who moved to Crates, Clarion County, Pa from Lebanon County with his family about 1849-50.
SURNAMES: Arentz - Arnst - Aaron - Crates/Gret - Egg/Eck -- Flour - Reinsel - Seifert/Cyphert
---
Bruck - Bridge 1812

by
Maurice Bridge
Matthais Bruck born about 1753 married Anna Mary Kuhn, granddaughter of John 

Kuhn, at the St. Paul's Mission
Church at Goshenhoppen, PA on Nov. 7, 1773.  They had eleven children whose baptisms were recorded at St. Paul's.
 In 1812,  

Matthais and his surviving children, including his oldest son Henry with his 

family, moved to Westmoreland Co.
Matthais and Henry purchased a farm of 296 acres in Derry Twp.  Peter, the second oldest whose baptism was recorded
as 

Peter Bruex (BRUEX, Peter, of Matthais Bruex and his wife Mary) in the 

Goshenhoppen Records, married
Anna Margaret Ruffner (granddaughter of Simon Peter Ruffner and Mary Barbara Schlitz) on Jun 1 1802 as recorded
in Fr. Helbron's  

Registers (BRICK, Peter, 1 June 1802, to Margaret Ruffner).  My paternal line of  

descent is through
Peter.  By that time the name had mutated from Bruck to Brick.  By the time of Peter's death in 1856, the name had
further changed to Bridge. 

 Another variation was Brige as recorded in the 1850 Derry census.





Surnames: Bruck/Bridge Kuhn, Ruffner
---
Dillon - 1833 by Helen Ormsby
Charles Dillon's sons Peter, Samuel, and Charles all moved to Cambria County from Adams County in 1833. While his daughter, Mary Ann, was baptised at Loretto, Samuel was still a taxpayer at Adams County in 1832. I believe the three brothers went to Cambria about the same time. Samuel and Peter were married to Noel sisters (Susanna and Catharine Noel, daughers of Andrew Noel, Jr.).
In addition, Charles Dillon's widow, Margaret Maria Strausbaugh (daughter of Peter Strausbaugh and Barbara Noel), moved to Cambria County and lived with her son Charles who had married Catharine Brawley after he had moved to Cambria County.
---
Osborn - 1787 -1880 by Bob Reinsel
Joseph Osborn, the first, was born in Scotlandand came to Pennsylvania in 1787 and settled near Huntington, PA.
Joseph the second was born in Scotland on February 6, 1787. Joseph was married to Sara Kinter on Sept 6 1807
by Sanuel Brisan, a Presbyterian Minister. Sara died on Sept 5, 1880 at Indiana Pa. Joseph and Sara became
Catholics in 1830. After living for a while at Crates, Claion County they moved to the village of Home in Indiana County.
SURNAMES: Osborn, Kinter